Studio Visit
with
Sophia Belkin
, remarks by Kendall Jacob
October 11, 2020
Seaglass Gossamer
, 2020
photo printed chiffon and embroidery on dyed cotton
18 x 22 in.
---
Sophia Belkin (b. 1990 Moscow, Russia) earned her BFA in drawing and printmaking from the Maryland Institute College of Art in 2012. She has participated in residency programs in Vermont, Norway, Russia, and the Narva Art Residency in Estonia. Recent shows include Á Condition at Calaboose in Montreal, Fossil Bloom at The Front in New Orleans, and Svetspalonos, an immersive multimedia exhibition installed on Juzna Trieda in Kosice, Slovakia. Her current practice utilizes dye painting, embroidery, textile collage and installation.
---
Neuro-condensation, 2020
Photo printed chiffon and embroidery on dyed cotton
18 x 21 in.

Stellerid Crawler, 2019
Dyed silk, painted resin
20 x 14 x 2 in.

Coral Terraria, 2019
Photo printed chiffon, assorted fabric and embroidery on dyed denim
11 x 13 in.
Sophia Belkin's work synthesizes the tension between our learned compulsory tendency toward control and the many alchemical possibilities and freedoms that exist beyond it. Looking through her body of work, there is an invitation to visualize a world that has relinquished the stronghold of absolute truths and answers. A world where the human is decentralized, and coexistence opens the door to infinite possibilities.
Dye painting pieces of fabric is often the starting point for Belkin. Thought of as a moving meditation, she invites the unpredictable. The paintings feel weathered, as if they hold history and time. The resulting textures and colors are sometimes reminiscent of microbial colonies or refracted light and shadows. In this fluid process where control is relinquished, chance becomes the foundation on which the rest of the work is grown.
In response to this alchemy, Belkin collaborates, rigidly, with a CNC embroidery machine. She works slowly, piece by piece, to create the composition. Because of the material restraints, her process requires premeditation as well as intuition. These two modes of working are disparate, yet they're woven together through a vocabulary of images and materials that are recycled throughout many of the works.

In the way that the wind blows a seed away from its plant of origin, or a colony of microorganisms migrate, Belkins' body of work becomes alive. It travels, mutates, and defies the logic of time. The embroidered images become portals into her own environmental experience: berries, beads of water, a nearby lot filled with tires, fences, reproduced images of past work. Movement, fluidity, and patterns counteract the determined nature of the machine. Her work echoes the controlled chaos that seems to make up much of our current reality.
more work by Sophia Belkin can be seen on her
website
.
In Aspic, 2020
Photo printed chiffon, linen and embroidery on dyed linen
9 x 11 in.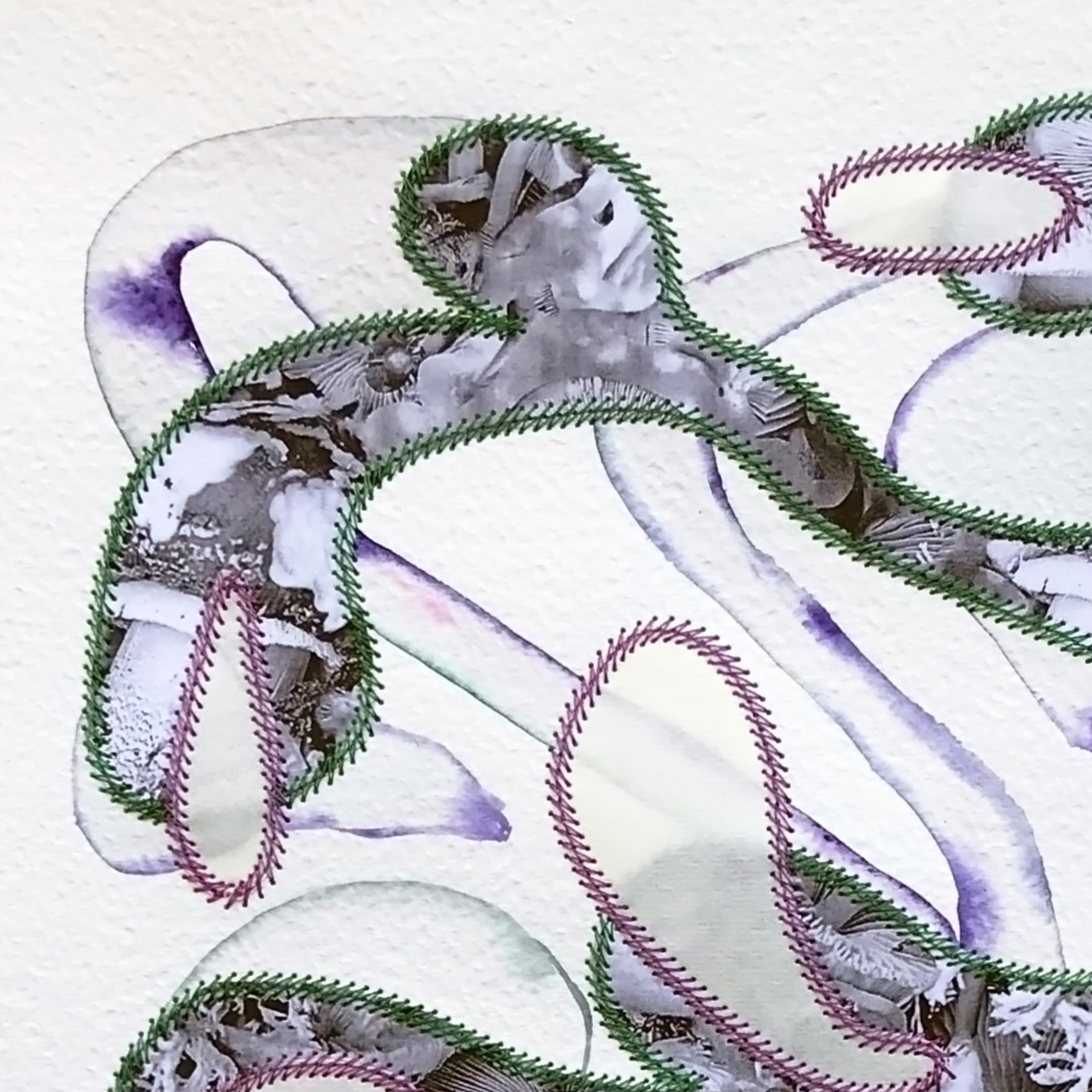 late sunrise ~ rental issue, 2020
inkjet print, embroidery, and watercolor on paper
15 x 9 in.



Electric Silt, 2020
printed chiffon and embroidery on dyed cotton
26 x 36 in.